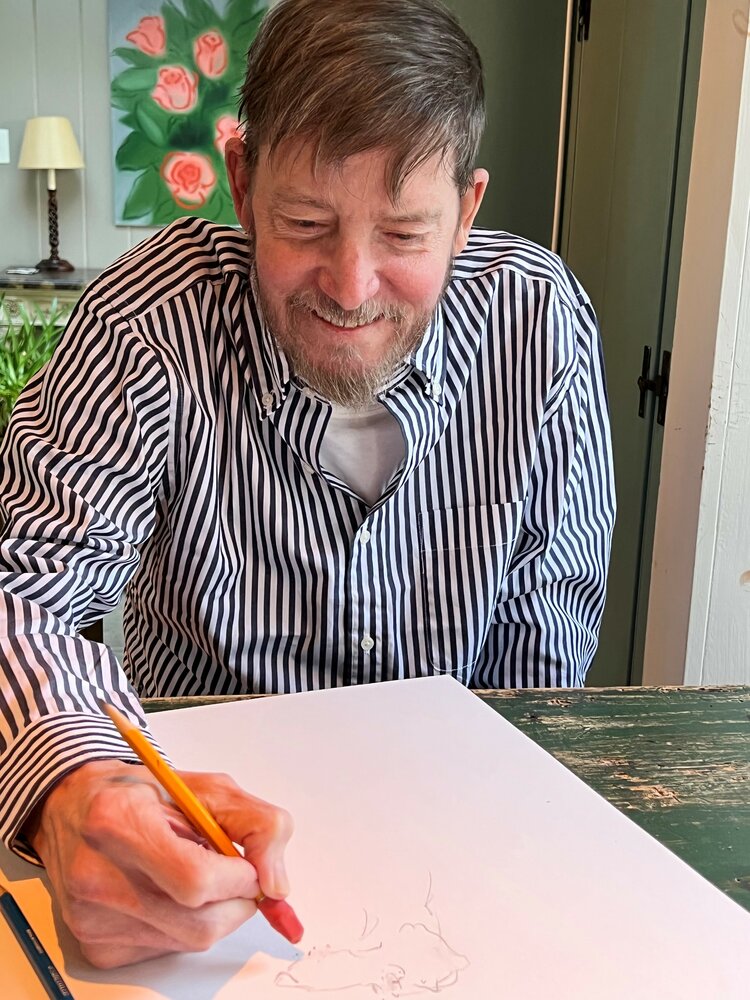 Obituary of Ian W. Falconer
Please share a memory of Ian to include in a keepsake book for family and friends.
Ian Falconer, best known as the illustrator and author of the Caldecott Honor-winning Olivia book series, died of natural causes on Tuesday, March 7th at age 63. He was with family in Rowayton, Connecticut.
Born August 25, 1959 in Ridgefield, Connecticut to Alexandra and Bruce Falconer, Ian was the oldest of three children, followed by sisters Tonia and Tory. He attended the Long Ridge School in Stamford and the Cambridge School of Weston in Massachusetts. Of those years he wrote, "Both schools were liberal, experimental and progressive and allowed me to spend serious time concentrating on my artistic interests. For this I cannot thank my parents enough." After studying Art History at New York University for two years, Ian enrolled as a painter at the Parsons School of Design; he later transferred to the Otis Art Institute in Los Angeles.
While in LA, Ian began working with the artist David Hockney, assisting him in designing costumes and sets for opera. Their relationship blossomed into a lifelong friendship and an artistic collaboration lasting many years. Of his experiences at opera houses in Covent Garden, San Francisco and Los Angeles, among others, Ian wrote: "It was here that I learned the ancient and delicate art of transforming a large, difficult, aggressive, middle-aged dramatic soprano into an eighteen-year-old virgin princess."
Ian's stage designs soon diversified to theater and ballet, notably Stravinsky's Scene de Ballet for New York City Ballet, his Firebird for Boston Ballet, and the Off-Broadway production of David Sedaris's The Santaland Diaries for the Atlantic Theater Company.
Shortly after returning to New York City, Ian illustrated the July 8, 1996 cover of The New Yorker, launching a long, productive relationship with the magazine; Ian's subversive humor and signature illustration style graced thirty New Yorker covers over the years.
In 1996, as a Christmas gift for his three-year-old niece Olivia, Ian created a precocious and imaginative piglet named Olivia. The reception of family and friends encouraged him to keep working. "At any rate, the drawings and the character became better and better," Ian later wrote, "so I began to really develop it in earnest." He turned down publishers who insisted that the text be written by an outside author. "I am afraid my vanity wouldn't allow me to relegate myself to 'illustrated by.' I also thought my instincts about the story were, if unpolished, right, and had happened organically with the pictures."
Two years later, Anne Schwartz at Simon and Schuster (a fan of Ian's New Yorker covers) contacted him about creating a children's book; Olivia promptly emerged for publication in 2000. Olivia remained on the New York Times bestseller list for over a year, received the Caldecott Honor, and eventually sold over ten million copies. In the following years, Ian wrote and illustrated seven beloved, award-winning sequels, the last of which was Olivia the Spy in 2017.
Ian continued to design sets and costumes for ballet and opera companies around the world, including numerous productions by the New York City Ballet. In 2008, he seamlessly blended original video recordings, lavish sets, and live performers for a stunning reinvention of the 1889 operetta Veronique at the Théâtre du Châtelet in Paris. In 2015, he designed sets and costumes for Pacific Northwest Ballet's The Nutcracker (with Olivia herself making a cameo appearance in an opera-house box); audiences and critics alike hailed his production, now a much-loved standard of the Seattle holiday season.
In 2022, he published a new book for children: Two Dogs, of which The New York Times wrote: "The creator of the Olivia books brilliantly displays his theatrical experience as a stage designer in this delightful tour de force about twin dachshunds who escape outside together when their humans leave them alone."
Countless anecdotes, fondly shared among family and friends, recall Ian's cantankerous wit and disarming frankness. He balanced bright, boyish curiosity and the wisdom of a grizzled sage. His compassion for emerging artists made him a natural mentor, sparking fast friendships that spanned decades. In remembering Ian on his passing, friends and family universally express gratitude for what he taught them. Ian pointed out beauty in the overlooked; his rigorous taste embraced high art and pop culture with equal gusto; his breadth of cultural knowledge was magnificent and generously shared.
Ian Woodward Falconer is survived by his loving mother Sandy and sisters Tonia and Tory, and cherished nieces and nephews Olivia, Ian, August, Perry and Will. In lieu of flowers, the family suggests contributing to a nonprofit dear to Ian: Positive Exposure, which promotes a more inclusive world through award-winning photography, films, exhibitions, lectures and educational programs.
(by Jeffrey Whitty, himself@jeffreywhitty.com)




Proudly serving Darien & surrounding communities
​


Looking for something you can't find? We make it easy to get the answers you need. Please feel free to contact us at anytime.