OUR HISTORY
It was on February 4, 1893, four generations ago, the Edward B. Lawrence Undertaking Business, combined with a furniture and livery business, began on South Main Street in New Canaan.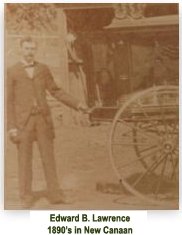 ​

In conjunction with the Undertaking Business, E.B. Lawrence worked and was elected Vice President of the First National Bank of New Canaan in 1921. In 1923, he became President of the Bank and held that position until his death in 1936. He served as Town Treasurer from 1899 until 1922, and was a member of the Board of Finance of the town for many years.

In 1931, his son, Edward (Ted) Lawrence moved the funeral business to Darien and was there about a year before moving to the former "Dutch Oven" property in Noroton. In early 1938, he purchased the property which is presently the Edward Lawrence Funeral Home at 2119 Post Road in Noroton. Then the alterations and repairs began on the old Victorian building with its everlasting charm. Ted was a World War I Navy veteran, and a long time member and past President of the Kiwanis Club of Darien in 1936. Ted was active in the business until the last few years before he died in February, 1960.

In 1946, after three years in the Army as a Surgical Technician during World War II, Ted's son, Edward Green Lawrence (known as Eddie to everyone, Casey in the Sports World), enrolled in the Renouard School of Embalming in New York City, became licensed, and went into the business with his Dad. Along with making all the necessary improvements to the establishment over the years, Eddie was named Darien's Citizen of the Year in 1978, was a founding member of Darien Youth Athletics, President in 1962 and 1963 and one of four original managers of the Darien Little League. He was a longtime member of the Lions Club serving as President from 1957 to 1958 and was very active in the Darien community right up until his untimely death in October of 1984.

Upon his graduation from Susquehanna University in 1972, Ed's son, Edward Green Lawrence, Jr. (known as Jed to everyone), enrolled at the American Academy of McAllister Institute in New York City for Mortuary Science. After his year of schooling there, he entered the business in 1973 on a full time basis with his Dad, and is presently the fourth generation carrying on the family business.

In August of 2000, Craig D. Ackerman joined the staff at the Edward Lawrence Funeral Home as a licensed embalmer and funeral director.In September of 2006, the Edward Lawrence Funeral Home added Shayna M. Gilbert as a licensed embalmer and funeral director to its staff.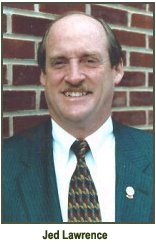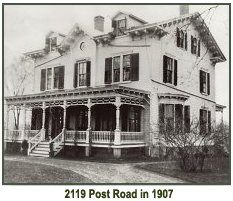 Proudly serving Darien & surrounding communities
​