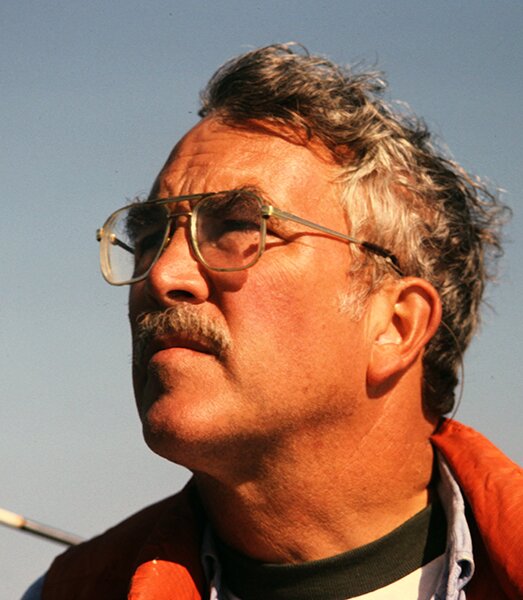 Obituary of David Macowan Sinclair
Please share a memory of David to include in a keepsake book for family and friends.
David Macowan Sinclair, 94, passed away at his home in Darien, Connecticut, on December 15th, 2022.
Dave was born in Philadelphia in 1928. He grew up in Germantown, Pennsylvania, where he attended the Germantown Friends School. When his family moved to Riverside, Connecticut in 1941, he spent one year at The Riverside School and then went to The St. Luke's School in New Canaan, Connecticut.
In 1950, Dave graduated with a B.A. in history from Amherst College and immediately began working for T.D. Helprin, Inc. in New York as a marine surveyor. This was the start of a fascinating fifty-year career with the same firm, of which he later became the sole owner and president. He loved his job, and it took him all over the world. As an independent hired by major insurance and shipping companies, he investigated and solved cases of how, where, when, and by whom multi-million-dollar shipments of goods were damaged, lost, or stolen. His loss examinations and findings formed the basis for thousands of major claim settlements. During the Korean War, Dave served for two years in the Marine Corps at Camp Pendleton, California, and attained the rank of Sergeant. In 1957, he received his MBA in foreign trade from New York University.
Dave was a lifelong accomplished sailor, a respected offshore seaman, and a sought-after navigator. At an early age, he learned to sail while summering at Pocono Lake, Pennsylvania. His family joined the Riverside Yacht Club in 1941, where he entered the Jr. Sailing Program, and he later taught sailing at the Pequot Yacht Club. By the time he was eighteen, he had secured a spot in the afterguard aboard the yacht Niña with DeCoursey Fales. He participated in eleven Newport to Bermuda Races and numerous Vineyard, Annapolis, and Block Island Races on Niña, Walter Hanson's Recluta, and on his brother-in-law Tony Widmann's Freebooter. He considered himself fortunate to have sailed once on the fabled Ticonderoga, when she finished first in the memorable 1947 Halifax Race. At age sixteen, he was on board the winning Lightning at the 1944 North American Championships, and forty-two years later, he was a crew member on the winning boat at the 1986 Sonar North Americans. He joined the Cruising Club of America in 1956, and at the time of his passing, he was the second longest-standing active member.
In 1956, Dave married Susan Widmann. They first lived in Cos Cob, Connecticut, before relocating to Darien, Connecticut, in 1958. They soon joined Noroton Yacht Club and started racing sailboats together as an inseparable team in their Lightning, Tempest, J-24 and Sonar for the next forty years. They often cruised the New England Coast and the Virgin Islands by themselves and with their family. Sue and Dave had an extraordinary relationship. They were completely dedicated to the common interests and activities that they shared together and were supportive, respectful, and admiring of each other's individual pursuits. They endured the loss of a 10-year-old son but managed somehow to channel their grief into nurturing and encouraging their own children, as well as supporting and mentoring other kids through their own personal endeavors and/or life challenges.
Dave was tirelessly dedicated to serving the sailing community and volunteering in his town and neighborhood. Among these efforts were co-founding the Darien Jr. Sailing Program, chairmanship of the Jr. Sailing Association of Long Island Sound, commodore of the Noroton Yacht Club, he was a certified US Sailing Judge and Senior Race Officer, a member of the US Sailing Appeals Committee of Long Island Sound, chairman of the US Sailing Area B Jr. Championships, founder and chairman of the Five Mile River Commission, treasurer and longtime board member of the Darien Nature Center, president of the Darien Historical Society, a board member and trustee of the Darien Land Trust, and he served on the Darien RTM and the Planning and Zoning Commission. He also consulted on the specifications and purchase of the Darien Fire Boat. Dave held many of these positions concurrently, and it is a testament to his commitment that he was able to manage it all while working and raising a family. The Darien Nature Center recently established the David Sinclair Volunteerism Award, which "is given annually to an individual in the community who embodies the volunteer spirit and commitment to the land, air, and waterways that Dave Sinclair has shown over his 25+ years of service to the Darien Nature Center." In 1982, he received the prestigious Ned Anderson Award for his outstanding contributions to sailing on Long Island Sound.
He had an incredibly inquisitive mind and devoured books and publications covering all subject matters. Though history and the natural world were his primary interests, he knew an awful lot about most things and a little bit about everything else. Dave even jumped out of a perfectly good airplane at 12,000 ft. to skydive over Block Island on his 85th birthday to "get a different perspective." But he will likely be remembered mostly for his grace, his calm demeanor, his thoughtful and sound decision-making, his moral courage, and for showing genuine interest in and kindness towards all those who he knew and met. A neighbor wrote after his passing, "This makes me sad. One of my greatest fears has always been that I will become a bitter old man. Dave was an example of the opposite of that. He serves as an inspiration to me as to how I want to be as my life progresses. He is truly a role model."
Dave was predeceased by his wife, Susan Widmann Sinclair; a son, Timothy Biddle Sinclair; his parents, Mary Biddle and John Stephens Sinclair; sisters Polly Buck Krakora and Sylvia Carr Berking, and his brother, John Biddle Sinclair. He is survived by his son Craig and daughter Margot, his son-in-law Scott Mannka, and grandchildren Peter, Jason, Chris Mannka, and Lindy Sinclair.
He lived a long, meaningful, and regret-free life that impacted many people and many things. Dave is going to be greatly missed by his children, grandchildren, his amazing extended family, and scores of wonderful, caring friends and neighbors. Details regarding a gathering to pay him tribute will be announced this spring.
To help preserve and protect the place he loved most, his family asks that you consider making a donation in his memory to The Block Island Conservancy, P.O. Box 84, 234 Weldon's Way, Block Island, RI 02807
https://biconservancy.app.neoncrm.com/np/clients/biconservancy/donation.jsp


Share Your Memory of
David


Proudly serving Darien & surrounding communities
​


Looking for something you can't find? We make it easy to get the answers you need. Please feel free to contact us at anytime.