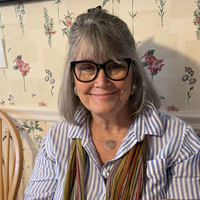 Nancy Giordano Sforza
Nancy Giordano Sforza, born in Minneola, New York and raised in Garden City, New York was the daughter of the late Thomas A. Giordano and Patricia M. Giordano. She passed away at home surrounded by her adoring family and dearest friends on Thursday, January 26th, she was 67 years old.
Nancy, a loving wife, and mother of 3, was an avid reader who believed in happily ever after and truly lived a life full of love and beauty.
A resident of Darien, CT since 1982, Nancy built a home for her beautiful family - survived by her husband of 42 years, Edward J. Sforza, who so selflessly cared for her during her courageous 7 year battle with Mixed Dementia; her children, Edward J. Sforza Jr. (Andrew) of Nashville, TN, Caroline S. Tierno (Matthew) of Fairfield, CT, and Megan S. Bruno (William) of Darien, CT; her 3 grandchildren that brought her infinite joy; Chloe & Theresa Bruno, and Thomas Tierno; and her 5 siblings Carol (Bruce) Lombardi, Thomas (Maureen) Giordano, Stephen (Lorraine) Giordano, Patricia (Jose) Ibero, and Michael (Catherine) Giordano.
Nancy, the friendliest face around town, was a cherished parishioner and CCD teacher at St. John Church, talented volunteer at Hindley Elementary School, impressionable teacher at Noroton Presbyterian Nursery School, and beloved secretary at the Darien Building Department.
Nancy left every moment, space, and conversation a little more beautiful. There was no encounter, act of kindness, or exchange of words too small or too insignificant - she truly left this earth more beautiful than it ever was before.
In lieu of flowers, the family suggests a donation to Team Nancy of the Alzheimer's Association: http://act.alz.org/goto/teamnancy2023
Calling hours will be held at Lawrence Funeral Home on Thursday, February 2nd from 4-8 PM. If possible, younger, more able adults are encouraged to park at the nearby Hindley School to help save parking for the less ambulant. A funeral mass will be conducted at 10 AM on Friday, February 3rd at St John Church in Darien. A private-family interment will follow at Spring Grove Cemetery in Darien.