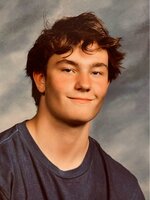 Hayden Cole Thorsen
Hayden Cole Thorsen, 16, of Darien, CT passed away on Saturday May 21st, 2022. Born January 12th, 2006 in New York City, Hayden is the son of Rob Thorsen and Sarah Thompson and loving brother to Elke Blue Thorsen. He attended Darien High School and played goalie for the Mid Fairfield Jr Rangers. He lived and was loved larger than life, more than any words can tell.
Hayden grew up in the Brooklyn neighborhoods of DUMBO and Park Slope, where he attended the Packer Collegiate Institute through the seventh grade, all the while balancing his academic life with his pursuit of the sport he loved, traveling to play club hockey with the NJ Titans and the NJ Colonials, with whom he competed in the 2020/2021 National Championships. For the coming year he was eagerly planning to attend and play for the Dexter Southfield School in Brookline, MA as well as the Boston Jr Eagles u16 team.
And while hockey was a central aspect of Hayden's life, it was the camaraderie and friendships he formed around the game, in school and beyond that truly defined Hayden's life. Well beyond any rink or classroom, Hayden was a light in the lives of so many from peers to parents, teachers to coaches.
Hayden was a natural leader with an inviting presence that always started with a smile and a warm "hello" he extended to all. He was inclusive and encouraging of everyone around him – friends and competitors alike, who also always wound up friends.
He took great pride in his sense of character and was sharp as a tack, quick with insightful one-liners that could say everything that needed to be said in just one simple thought. He's someone his peers and adults alike enjoyed interacting with, wise and understanding well beyond his years.
He was surrounded by an astonishingly good and strong group of friends here in Darien and inside every rink across the country and beyond, where they all held each other to the best of themselves as young men and women in competition and in life, knowing and standing up for right from wrong, supporting each other through life's experiences.
While Hayden was a member of the Darien community for a seemingly short period of time, his life and impact will be remembered forever.
Hayden is survived by his parents, Sarah and Rob, his sister Elke, Grandparents Spencer and Juniper Thompson, Grandmother Gerri Thorsen, aunts Mandy Grant, Becky MacDougall, Erika Woods, Suzanne Thompson, uncles Robert Thompson, Robert Woods, Shawn Grant, and so many loving cousins in Izzy, Patrick, Joseph, Wylie, Thomas, Spencer, Alex, Samantha, Liam, Michael, Olivia, Jack, Teddy and Blue Elmo.
Services will be held Thursday, May 26th at 1:00pm at the Noroton Presbyterian Church where all are welcome to attend to share in Hayden's spirit. Friends and Family are invited back to Hayden's home thereafter.
In lieu of flowers, please consider making a donation to The Hayden Cole Thorsen Memorial Fund, the proceeds of which will be used to bring awareness and support to at-risk youth in Hayden's name and honor: https://gofund.me/7f1c8fd0