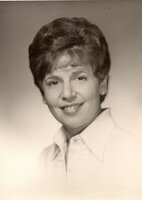 Rosemarie Capasse
Rosemarie Capasse, 89, beloved sister and dearest aunt passed this life peacefully on Monday, May 9, 2022, with family by her side. Rosemarie was born May 12, 1932, in Westport, Connecticut to the late Eugene A. and Anna (Lopiano) Capasse. Her family affectionately calls her "Sister."
Rosemarie graduated from Stamford High School class of 1951. Her yearbook caption read, "Ro, a heart of gold," and she proved a friend worth having. She began her career at State National Bank in Stamford. She attended WilliamsCollege and graduated from the Colorado School of Banking at the University of Colorado, being one of six women out of 85 graduates. Rosemarie relocated to Stratford and continued her career as Assistant Vice President and Branch Manager of Fleet Bank's Paradise Green office. A trusted businesswoman in Stratford, she also served as President of the Shakespeare Civitan Club. She especially enjoyed interviewing the young people who applied for the club's scholarships. She was skilled with needle and thread, and enjoyed sewing clothes, shopping, politics, the Yankees, and being with family. Her miniature poodle Prince brought her much joy.
Sister cared deeply for her seven nieces and nephews and their children. You always knew Sister was proud of you with unconditional love. Instead of asking, "Where have you been?" she would say, "When are you coming over?" We remember talking around the kitchen table long into the night. She was always there for support and gave the best advice. Her mother, Anna, also suffered from dementia and Sister cared for her at home for as long as she possibly could. We remember "Grandma" calling her "an angel."
Besides her parents, Rosemarie was predeceased by her brother Robert J. Capasse. She leaves behind her brother Eugene P. Capasse of Trumbull, CT; nieces and nephews Ann Marie Pietkevich of South Windsor, CT, Joanne Roy and husband Michael of Ashford, CT, Gene Capasse and wife Nancy of Olathe, KS, James Capasse of Suwanee, GA, Michael Capasse of Seymour, CT, Jon Capasse and wife Lee Ann of Buford, GA, and Patricia Clancy and husband John of Trumbull, CT; grandnieces and grandnephews Tracy Pietkevich, Holly Pilatti, Matthew Pietkevich, Deanna Pietkevich, Jeffrey Roy, Liam Roy, Patrick Capasse, Christopher Capasse, Brianne Clancy, and Kayla Clancy; great-grandniece Lily Pilatti and great-grandnephews Zachary Pilatti and Hugh Capasse.
The Funeral Mass will take place at St. Thomas More Church, 374 Middlesex Road, Darien on Friday, May 20, 2022, at 10:30 a.m. Burial will follow at St. John Cemetery, Darien. In lieu of flowers, the family suggests memorial donations to Disabled American Veterans or the Alzheimer's Association.