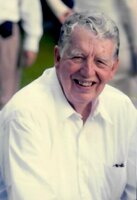 Charles L. Mack
Charles L Mack, 92 of Stamford, CT formerly of New Canaan, Darien and Mashpee MA passed away on May 1 2022.
Born in Princeton, NJ on January 13, 1930, Charlie was the son of Raymond and Frances Mack (nee McCleod)
Charlie graduated from Princeton High School and Brown University 1951.
After graduation, Charlie joined the Navy, attending Officer Candidate School in Newport RI.
Charlie had a successful career as a management consultant for Booz, Allan and Hamilton and spent many years as a bank executive for Citibank. Charlie volunteered his time for SCORE after retirement.
Charlie was an avid sailor, racing his boat M-Squared at the Stamford Yacht Club.
Charlie was also passionate about the sport of curling. He was an active member of the Nutmeg Curling Club.
Charlie was predeceased by his wives Margaret (Roll) and Lee (Vest), and his daughter, Margaret Blizzard (Craig)
Charlie is survived by his son, William Mack (Carol), stepson Graham Vest (Carolyn) and stepdaughter Sallie Vest (Hassan)
Grandsons: Christopher Blizzard (Jennifer), David Blizzard (Noelle) and Gordon Mack (Martha)
A Celebration of Life for Charlie will be held later this summer.