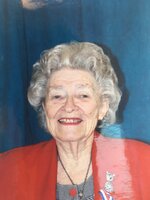 Marjorie Elizabeth Kohut
Marjorie E. Kohut, aged 95, passed away on March 29, 2022. Born in Stamford, CT on November 25, 1926, she was the only daughter of Leroy E. Keech and Evelyn E. (Bryant) Keech. Marge was raised in Stamford and continued living there with her husband and two sons before retiring to Ft. Myers, FL in 1996. During WW II, she graduated from registered nursing school at the Flower Fifth Avenue Hospital, New York City. She was a nurse for many years at Stamford and St. Joseph's Hospitals, working in both maternity and geriatric care. She was known at Stamford Hospital for bringing her two young sons to be watched by the ER team while she worked an afternoon shift. She held nursing licenses in Connecticut, New York and Florida. In addition to nursing, accounting became a passion for her, so she became a bookkeeper for a local property and taxicab owner. She loved working with money and became a trusted advisor to him.
Marjorie passed on her love of travel and adventure to her family. At her mother's request to see England where her parents were born, Marge arranged a grand tour, including voyages to the UK on Cunard Queen Elizabeth and driving 1,000 miles around Ireland and England. Asked about driving a rental car on the left, she quoted a friend, "if you can drive, you can drive on the moon". This, after all, was 8 years before the moon landings. She imparted that confidence and enthusiasm to all around her. Later, she and her husband, Alexander revisited England, Germany, Switzerland and went on several cruises. She made many lifelong friends during her travels.
Marjorie was an intensely spiritual person and attended both St. Michael's and Iona Hope Churches in Ft. Myers. She frequently told her sons that their grandmother was watching over them as a guardian angel. Her beloved husband, Alexander, died in Ft. Myers in 2005.
She leaves two sons, Michael and his wife, Shirley Maciaga of Monson, MA and John and his wife, Martha of San Diego, CA. Also surviving her are two grandchildren, Kristyn Kohut Molina and her husband, Marco of Ladera Ranch, CA and USN CDR J. Eric Kohut and his wife, Amy of Jacksonville, FL.
A graveside service will be held on Saturday, May 7, 2022, at 11:00 a.m. at Fairfield Memorial Park, Oaklawn Avenue Stamford, CT. All friends are invited and a reception will follow.