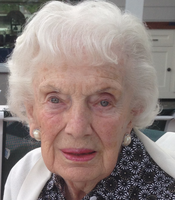 Helen Sophie Darr
On April 16, 2022, Helen Darr passed away peacefully in her sleep at the age of 102. Born in Chicago, Illinois, on August 16, 1919, Helen had a very full and active life. Her parents, Sophie Paprocki and Ignatious Jemiolo, both Polish immigrants who met in Chicago, epitomized the American immigrant dream of the early 1900's. They embraced the opportunities offered them and raised Helen and her younger brother Raymond Edward in a loving home, all the while teaching them the principles of hard work and honesty.
Helen graduated from High School with honors and went to work in retail to help support her family. She fell in love and married her wonderful husband James F. Darr in August 1942. Jim joined the Communications Corps of the US Army in World War II, serving both in the European and Pacific Theatres. Although they did not see much of each other for the first four years of their marriage, Helen faithfully wrote a letter to her husband every day.
At the end of the War, they settled first in Chicago and then in Des Plaines, Illinois, where they lived for 10 years. Jim's job with United Press International brought them to the New York area in 1963 where they settled in Stamford, Connecticut, where Helen lived until her death. Helen was an enthusiastic volunteer at her children's schools and at local hospitals. She moved to Edgehill Senior Living Center in April 2008 and enjoyed the many new friends she made there.
Helen was an exceptional wife and mother. She cared deeply for her family, friends and neighbors for whom she felt a strong sense of loyalty and empathy. She felt lucky to know and was extremely proud of all her grandchildren and great grandchildren. She had a remarkable sense of humor, a twinkle in her eye, lots of common sense wisdom, was very smart and up to date and also had a very strong will and sense of loyalty. A true lady.
She was predeceased by her husband, James F. Darr in 1989. She is survived by her daughter and son-in-law Judy and Charlie Eaton of Norwalk, Connecticut, her son and daughter-in-law James and Laura Darr of Suwanee, Georgia, her six grandchildren Charles Eaton, Courtney Eaton (Robert Martin), Jeffrey Eaton (Theresa), Steven Eaton (Jamie Kosmar), Rachel Darr and Justin Darr (Sarah) and four great grandchildren Flannery Martin, Theo Martin, Juniper Eaton and Grayson Eaton.
May she rest in peace.
A Celebration of Life will be held in May, date to be determined.
Donations in Helen's memory can be made to The Edgehill Employee Fund, 122 Palmer Hill Road, Stamford, CT 06902.