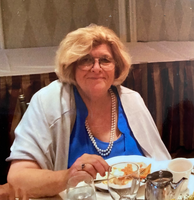 Barbara Ann Smith
Barbara Ann (Chudy) Smith, age 78 of Darien, beloved wife to Jerome "Jerry" Smith for 57 years, entered into eternal life on March 25, 2022. Barbara was born and raised in Stamford and was the daughter of the late John and Mary (Novak) Chudy.
Barbara graduated from Stamford High School class of 1961. Barbara was known for her strength, kindness, warm spirit, sense of humor, and dedication to family. She was a devoted wife and mother, but loved being a grandmother above all else. Her grandchildren were her pride and joy. Barbara's happiest place was at the kitchen table serving a home-cooked meal. No one ever left her house hungry or empty-handed.
In addition to her loving husband, Barbara's memory will be cherished by a daughter, Lori Palau, and her husband, Jay of Clifton, VA; grandchildren Robert Smith and his wife, Fotini; Joseph and Vanessa Palau; great-granddaughter Willow Smith; and brother, Edward Chudy. She is also survived by nieces Mary Chudy, Amy Chudy, Alexandra Chudy, and nephew, Ned Chudy. Barbara was predeceased by a beloved son, William Smith, and brother John Chudy.
Friends may greet the family on Thursday, March 31, 2022, at the Lawrence Funeral Home 2119 Post Road in Darien from 5 to 7 p.m. Funeral Services will be held on Friday, April 1, 2022 at 10:30 a.m. at Lawrence Funeral Home. Burial will follow at St. John Cemetery in Darien. For travel directions or to sign her online guest register book and order flowers, please visit www.LawrenceFuneralHome.com