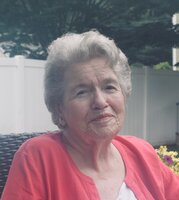 Elizabeth Ann Kane
Ann Kane, a resident of Darien passed away peacefully at home on February 27, 2022 with her family by her side. She was born on July 24, 1929 in Olyphant, PA to the late Owen and Nellie Durkin. She was 92.
Ann was a graduate of St. Patrick's High School in Olyphant, PA. She graduated from Marywood College in Scranton, PA and did graduate work at Penn State University and Muhlenburg College in Allentown, PA.
Ann was a speech therapist in the Allentown school district before marrying and raising her five children. She served as President of the Marywood College Alumnae Association and was a lifelong member of St Patrick's Church in her hometown of Olyphant, PA. For the last six years, Ann was a member of St. Thomas More Church in Darien.
Ann was pre-deceased by her husband, Dr. James Kane, and her siblings, Joseph Durkin, Catherine Durkin, Eileen Lange, Gerald Durkin and James, who died in infancy. She is survived by her five children, Mary Kane of Oregon, James Kane and his wife Theresa of Pennsylvania, Owen Kane of Massachusetts, Kerry Muse and her husband John of Massachusetts, and Katie Murphy and her husband Jeremy of Connecticut, with whom Ann lived for the last six years. Also surviving are her grandchildren, Dean and Maylyn Kane, John Kane, Owen and Patrick Kane, Robby Muse, Finn, Jane, Dylan and Morgan Murphy, and one great grandchild, LaRia, and many beloved nieces and nephews.
A Memorial Service will be held for Ann at Holy Cross Church in Olyphant, PA at a later date. In lieu of flowers, donations may be made to St. Jude Children's Research Hospital.