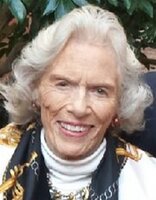 Jane Eyre Repp
Jane Eyre Repp, a resident of Norwalk passed away on January 30, 2022 at 91 years of age. She was born on June 21, 1930 in New York to the late Henry Norman Eyre and Therese Quanz Eyre.
Jane attended Rye Country Day School and Miss Porters School. She had many jobs during her long life including those at Presents Unlimited, Macy's, Time Inc., Logan's, Schweppes, Quelques Choses, Low Heywood Thomas School, Drexel Burnham Lambert and Mostly Monogrammed. Jane volunteered with many organizations, clubs and schools such as Cub Scouts, Darien Cares, Darien Historical Society, Fox Run Elementary School PTA, King School Board of Trustees, King School Parents Association, Libby Holman Center of Fine Arts, Lifetime Learners, Lockwood Mathews Mansion, Low Heywood Thomas Mother's Association and St Luke's School PTO. She was a longtime member of St Luke's Church where she volunteered during many of their Community Suppers as well as with the St Martha's Guild. In addition, she was a former member of the Noroton Yacht club and Ischoda Yacht Club.
Jane loved to travel and enjoyed entertaining. She enjoyed, bridge, golf, shopping, skiing, tennis and theatre. Above all, Jane was happiest when she could make someone smile. Her friends found her to be a vivacious and sociable lady with a sharp wit, a touch of mischievous whimsy and an infectious laugh.

Jane was pre-deceased by her husband Cameron in December of 2021 and her siblings Elizabeth Eyre Taylor, Shirley Eyre Knapp and her twin brother Henry Norman "Jim" Eyre Jr. She is survived by her children, Cameron E. Repp of Peru, Indiana and Tina Repp of Norwalk CT. Also surviving her are three generations of nieces and nephews.
Due to covid, a celebration of life will be held at St. Luke's Church in Darien at a future date. In lieu of flowers, please make a donation in Jane's memory to your favorite charity.