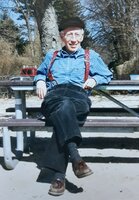 Hans Thilmany
Hans Thilmany, aged 94, died in his Darien home in which he lived since 1965. Hans was born in Frankfurt, Germany in 1927 the only child of Rudolf and Marie (nee Ginsburg) who met as classics students at Freiburg University shortly after WWI. His parents left Weimar Germany in the mid-20s to live in then-exotic Istanbul but briefly returned to Germany when Hans' maternal grandfather, a prominent Jewish doctor at one of Frankfurt's hospitals, insisted on his birth taking place in Germany. Hans and his family enjoyed cosmopolitan Istanbul, where he was raised and attended both Turkish and French schools. Summer months were spent in Moda, a then-village on the Sea of Marmara, where at an early age Hans learned to swim and sail, his lifelong passions. As a teenager he skied on Mount Ararat with classmates, another sporting passion. When Hans was a senior in high school, Turkey declared war on Germany and interned resident German citizens regardless of Jewish heritage in eastern Anatolia and then, despite the war's end, forgot them. His memory of this time was one of extreme boredom, having missed final exams and of primitive conditions, such as his water basin freezing overnight.
A gifted math student, Hans matriculated for a 5-year masters civil engineering program at Istanbul Technical University, one of the oldest engineering schools in the world. Although initially drawn to naval architecture, Hans was persuaded to pursue civil engineering in light of demand in Europe following WWII. After graduation, he lived in a tent in Adana as a young engineer working on the development of Incerlik Airbase. This was his first exposure to the English language as well as American bourbon, a taste he never acquired. Finding more agreeable work conditions, Hans returned to Istanbul to work on civil projects and was introduced to his future wife Tanya. Timing was a little complicated, as Hans decided to leave Turkey to live and work in Switzerland. It wasn't long before Hans realized how much he missed Tanya and wrote her a love letter and proposed marriage. They married in a Geneva suburb where their only child, a son, was born four years later.
And so began what Hans thought was a blissful life in the French part of Switzerland. Tanya had other ideas. Of Russian decent, born and raised in cosmopolitan Istanbul, Tanya missed the excitement and stimulation of city life. Hans agreed in 1962 to a "trial" (up to two years) move to New York City, to which Tanya's parents, in their late 50's and for the second time refugees, had moved following unrest in Turkey. Despite not speaking much English at that time, demand for civil engineers was very high. And being talented in languages in addition to math, Hans quickly became fluent. They lived briefly on 140th Street with Tanya's parents until Hans found employment in Long Island. By 1965, opportunity knocked in Stamford, CT and they settled into their new home in Darien, a short drive to the office and an even shorter drive to Pear Tree Point.
Hans and his family took advantage of such close proximity to the water and the few hours' drive to Vermont, particularly Killington. A long-time member of the Darien Boat Club where Hans kept his dinghy, rowing out to his mooring well into his 80s and later with the aid of the launch, sailed until he was 90. Hans would visit Pear Tree Point as often as he could, any time of year, offering any number of excuses – check the mooring, the wind, the dinghy, etc. He loved the Gazebo, the front beach, and particularly the view of his beloved Marmara, one of the very last Ensigns in the harbor.
Intellectually curious, Hans completed all Power Squadron course offerings, reaching Navigator status. Hans also earned an MBA in Finance at UConn in the evenings. As a parent and grandparent, he always prioritized education, language and culture with his family. Hans was a voracious reader his whole life and was a regular patron of the Darien Library.
Hans leaves behind his wife of 64 years, a son & daughter-in-law and two grandchildren.