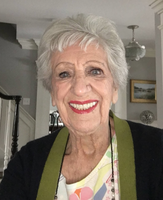 Connie M Hirt
Connie Marie Hirt, the beloved wife to the late Fred J. Hirt, a resident of Darien, CT, and a former resident of Manhattan, NY, passed away on Friday, January 28, 2022, at Calvary Hospital, Bronx, NY. Born on January 17, 1929, in New York, NY, she was the daughter of the late Diego and Domenica (DiPasquale) Lupo.
Connie managed Thrift Shop East for many years. She volunteered for the UJA Federation of Jewish Philanthropies and Channel Thirteen. She was also an antique dealer.
Connie loved to knit as well as crochet and enjoyed crocheting with cancer patients at Sloan Kettering. She was outspoken, a firecracker, a people person, a great listener, generous, kind, emphatic, and an avid reader. She believed in living life to the fullest and was willing to challenge herself constantly, learning from life.
Connie's memory will be lovingly remembered by one son, Daniel Edwards and his wife Deborah; two daughters, Martha Gorham and Ellen Criscuolo and her husband, Aldo; two sisters, Josephine Moffi and Frances Gagliano; eight grandchildren, Diane Martinez, Hayley Hawkins, Taryn Gorham, Giancarlo Criscuolo, Marco Criscuolo, Eva Criscuolo, Dana Edwards, and Ann Marie Edwards; and nine great-grandchildren.
In addition to her husband, Fred, Connie was predeceased by two sons, Winston Edwards, III and Charles Edwards; and one daughter, Joanne Hill; two brothers, Charles Lupo and Lawrence Lupo, and one sister, Mary Lupo.
The family will receive friends at Lawrence Funeral Home, 2119 Post Road, Darien on Tuesday, February 1, 2022, from 4:00 to 8:00 PM. A Mass of Christian Burial will be held on Wednesday, February 2, 2022, at 11:00 AM at St. John Church, Darien. Burial will follow at St. Raymond's Cemetery, Bronx, NY.