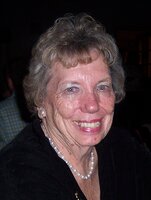 Jean Ann Tyler
Jean Tyler, a life-long resident of Darien, passed away on Friday, January 21, 2022 at Danbury Hospital with her family by her side. Jean was born on March 6, 1932 in Darien and was the daughter of the late Samuel and Mildred Arcano. Jean was 89 years old.
Jean graduated from Darien High School, class of 1950. She then got married to Louis Canto and had 4 children. She started her career as a secretary at Crawford & Russell, worked in the healthcare field at several medical offices, became Aquatic Director of Darien YMCA, and then retired from Georgia Pacific in 1982. She then followed her dream to start her own child care business, "Cry Baby Ranch", taking care of many children in the community including her own grandchildren.
Jean had an incredible passion for life and unlimited compassion for everyone whom she met. Her faith was the cornerstone of strength throughout her life. She was dedicated to her local parish, and was a devoted member of many ministries.
Jean is survived by her four children, Cynthia Miressi, Carolyn Miressi, Louis Canto, and Catherine Canto. She is also survived by her 7 grandchildren and 4 great grandchildren.
A mass will be held at St. John's Church in Darien on Friday, January 28, 2022 at 11:00 am followed by burial at St. John's Cemetery in Darien.
In lieu of flowers, memorial donations may be made to Regional Hospice in Danbury, 30 Milestone Road, Danbury, CT 06810. The Lawrence Funeral Home is handling the arrangements, www.lawrencefuneralhome.com.