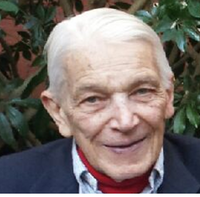 Cameron H. Repp
Cameron Herbert Repp a resident of Norwalk, CT passed away peacefully at home on December 12, 2021 at the age of 92. He was born in Brooklyn, NY to the late Herbert Nelson Repp and Lavinia Stuart Repp.
Cameron attended Hindley Elementary, Deerfield Academy and Kent State University graduating with a bachelor's degree. He then went onto have several jobs which included working for Walden Books, Yacht Haven, Rings End Lumber, Lloyd Lumber and Creative Cabinetry. He was also in the Army and was a Combat Engineer in the Korean War and attained rank of sergeant. In addition, Cameron worked as a merchant marine on a freighter.
Cameron enjoyed boating, skiing, fishing and golf. He also enjoyed working with his hands and spending time with friends and family. Along with his brother Stu, they founded Darien Hornets, now known as Darien Winter Club. He coached Darien Youth hockey and St Luke's School hockey. Cameron helped build the Darien Historical Society Whale Boat and was a member of SOB lunch group.
He is survived by his wife Jane Eyre Repp, daughter Tina Repp and son Cameron E. Repp. He was pre-deceased by a brother Stuart I. Repp and a sister-in-law Judith A. Repp.
Due to covid, a memorial service will be held at a future date with internment at Lake View Cemetery in New Canaan, CT. In lieu of flowers, donations may be made to Ducks Unlimited www.ducks.org or National Cancer Society https://donate3.cancer.org.
"Hang by your thumbs."