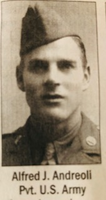 Alfred J. Andreoli
Alfred J. Andreoli of Darien CT passed away peacefully at his home on Friday October 22, 2021. He was born in Plains, PA to the late Domnick Andreoli and Mary Noti Andreoli. He was 103.
Alfred was a Mason for most of his career and then worked for the Department of Transportation until his retirement. He was a United States Army veteran and served in World War II. He was also a member of the Civilian Conservation Corps.
Alfred is survived by his three children Patricia and James Fern of Darien, James and Regina Andreoli of Trumbull and Doreen and David Baker of Fairfield as well as nine grandchildren and six great grandchildren. He was predeceased by his wife Mary in 2009. His two brothers Peter and Teodore and three sisters Helen, Elizabeth and Josephine also predeceased him.
The family would like to thank Danielcare for giving us two special caregivers, Natasha ad Sonia. They gave our father such loving care. We would also like to thank Visiting Nurse and Hospice.
A Graveside Service with Full Military Honors will be held on Wednesday October 27, at 11:00 AM at St John Cemetery in Darien. The Lawrence Funeral Home is handling arrangements.