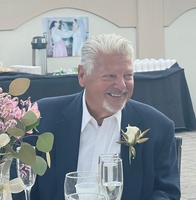 Anthony Conetta
It is with great sadness and a heavy heart that we share the news that my husband, Anthony Conetta, passed away peacefully in his Darien, CT, home on Monday, September 27th, after a long and courageous battle with cancer. Just as he dealt with all experiences in life, Tony managed his illness with strength, grace, and humor. He lived by the motto, "Time spent with family is life's greatest gift," and in his final days, he was surrounded by his loving wife, children, grandchildren, sons-in-law, brothers, sisters-in-law, and extended family and friends whom he adored more than anything in the world.
Tony lived a beautiful life. He was born in Settefratti, Italy, on February 9th, 1950, and came to the United States at the age of five with his mother and brothers, to join his father as they forged a new life in America. And yet, throughout his life, he treasured his Italian heritage, passing on traditions to his children and grandchildren – Sunday dinners; making homemade tomato sauce, wine, and sausage; and tending to a yearly garden like the one his parents kept throughout their lives. He was so happy and proud to take his family on their beloved trip to Italy in the summer of 2017, and he could often be heard regaling friends and strangers with stories of their adventures in "the old country."
He was predeceased by his parents Remigio and Antonia Conetta, and his sister-in-law Barbara Manjuck. He is survived by his loving wife of 50 years Jacqueline Milone Conetta; his three loyal and devoted children, Michele Gruner (and John) of Trumbull, CT, Toni-Ann Rongoe (and Nick) of Darien, CT, and Ray Conetta (and Alec) of Norwalk, CT; his loving grandchildren, Allie Gruner, Camryn Gruner, Jake Gruner, Ava Rongoe and Nick Rongoe; his brothers Louis Conetta (and Mary Ann) and Joseph Conetta (and Emily); his mother-in-law Madeline Roman; father-in-law Jose Roman; his sister-in-law Jo-Ann Sawitsky (and Michael); and cherished nieces and nephews.
Tony was the life of the party. He loved to laugh, dance, sing, and celebrate. He made us all so happy. Please join us in celebrating his amazing legacy.
The family will receive friends at the Lawrence Funeral Home, 2119 Post Road, Darien on Sunday, October 3, 2021 from 2:00 to 6:00 PM. A Mass of Christian Burial will be held at St. John R. C. Church, 1986 Post Road, Darien on Monday, October 4, 2021 at 11:00 AM.
Memorial donations may be made to the American Cancer Society, 38 Richards Avenue, Norwalk, CT 06854 or Memorial Sloan Kettering at giving@mskcc.org/donate/now.
For travel directions or to sign Anthony's on-line guest register, please visit www.LawrenceFuneralHome.com