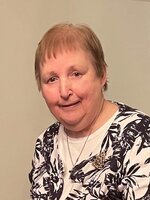 Catherine "Kitty" Egan
Catherine Kelly Egan, 82, went to be with the Lord on Monday, September 20, 2021. Catherine, affectionately known as "Kitty", was born on June 13, 1939 in Port Washington, NY to Irish immigrants Thomas Kelly of Derry and Catherine Smyth of Galway. The youngest of 4, Kitty was predeceased in death by her brothers, Sean and Paul Kelly and her sister, Mary Ingraham, all of whom she loved dearly. She is survived by her son and daughter in law, Patrick and Virginia Egan; her daughter, Margaret Egan; her daughter and son in law, Kelly and Ron Ongley; her son and daughter in law, Sean and Tania Egan; her beloved 7 grandchildren – Grace, Molly, Caroline, Caitlin, Melissa, Luke and Blake; sister in law, Roberta (Bobbie) Kelly; many nieces and nephews on Long Island, NY, Florida, Virginia and Texas.
She was a loving mother and grandmother with endless patience, kindness and selflessness. A lifelong Yankees fan and Scrabble enthusiast, she could always be counted on to know the score of a Yankees game and how to spell a word you've never heard of. Her contagious laugh, ever-present smile, quick wit and ability to recall an important date on a dime will live with us forever. Her strong Catholic faith gives us all comfort at this time.
A celebration of her life will be held at Lawrence Funeral Home, 2119 Post Road, Darien, CT on Monday, September 27, 2021 from 5:00 – 8:00pm. All are welcome. Mass and burial will be for the family only.
Those wishing to honor Kitty's life may make a donation in her name to Catholic Charities of Long Island, 90 Cherry Ln, Hicksville, NY 11801.