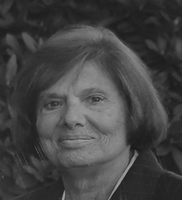 Louisa C. Calka
Louisa Carriera Calka passed away in Darien, July 6, 2021. She was born in Stamford on November 24, 1936. After graduating from Stamford High School in 1954, Louisa was employed as a secretary at Stevens Elementary School in Stamford. After her marriage in 1960, she attended Southern Connecticut State University majoring in Education. She received The Henry Barnard Award (for professional excellence), graduating in 1972. Since her marriage, Louisa gave birth and completed her undergrad studies in three years. After her leave of absence, Louisa returned to the Stamford School system as a teacher at Stillmeadow Elementary School and Cloonan Middle School (her alma mater) where she taught English (her major).
Louisa subsequently received her Master's degree in Education (1974) and a second Master's Degree in Administration and Supervision (1980) from the University of Bridgeport.
After serving as an Administrative Intern, she accepted a Principal position at Turn-of-River Middle School until her 'dream' position as the Principal of Westover Elementary School opened in 1993 where she served until her retirement in 2007. At Westover, Louisa was 'clerk of the works' during the rebuilding of Westover and completion in 1999 until her 'reign' ended. Louisa could not be idle long! She was asked to administer the Stamford Summer School Program in 2007 and remained until 2019.
As an Educator Louisa was past President of the Administrators Union and until her death, Louisa was President of the Villager Pond Condo Association where she labored daily.
Louisa is survived by her husband of sixty-one years, James: their son Jim, his wife, Ruth and three grandchildren; Joshua, Justin and Jacob; siblings Anthony Carriera (Fairfield), Paula Turcer (Pacoima, CA), Alberta DeRosa (Shelton) and John Carriera (Stamford); as well as many nieces, and nephews.
Visitation will be held at the Lawrence Funeral Home in Darien on Saturday, July 17 from 9:00 – 10:30 A.M. A funeral mass will follow at St. John's Church in Darien at 11:00 A.M., with a committal at Spring Grove Cemetery.
In lieu of flowers, donations may be made in Louisa's memory to a scholarship fund set up in her name to support students from Stamford. Checks can be made out and mailed to Stamford Dollars for Scholars, P.O. Box 3559, Stamford, CT 06905. Please indicate on the check that the donation should go to the Louisa C. Calka Memorial Scholarship. For those who wish to donate online, please visit https://secure.givelively.org/donate/stamford-dollars-for-scholars-inc/louisa-c-calka-memorial-scholarship or use the clickable link on the sidebar of Louisa's obituary page.