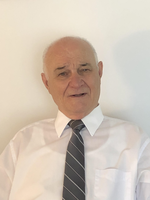 Francesco Brunetto
Francesco Brunetto, a resident of Darien, passed away on Wednesday, May 19, 2021 in Darien. Born February 22, 1939 in Castiglione, Sicily, he was the son of the late Salvatore and Giuseppina (Trefiletti) Brunetto. He was 82 years old.
Francesco worked as a highway foreman for the Darien Public Works for 46 years before retiring in 2004. He was also a member of St. John R.C. Church in Darien.
Francesco is survived by his wife Elisa Ciacciarella Brunetto, a daughter Josephine Borghi, and a son Salvatore (Rosalia) Brunetto. He is also survived by four grandchildren; Jessica (Ron) Doshna, Melissa (Sal) Catalano, Frank Brunetto and Anthony Brunetto. In addition to his parents, he was predeceased by his brother Vincenzo Brunetto and son-in-law Andrew Borghi.
A viewing will be held on Monday, May 24th at 9:00 AM at the Lawrence Funeral Home located at 2119 Post Road, Darien, CT. A Mass of Christian Burial will follow at 10:00 AM at St. John R. C. Church, 1986 Post Road, Darien, CT. Entombment will follow at Spring Grove Cemetery, Darien, CT.
Donations in his memory can be made to the Foundation Fighting Blindness, fightingblindness.org, for Retinitis Pigmentosa Research.