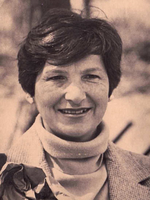 Antoinette Rita Gleeson
Antoinette Rita Gleeson of Darien, CT died Sunday, May 9, at her home. She was 93.
She died following a long illness, according to her family.
Born on July 1, 1928 in New York City, she was the daughter of Michael and Angelina Boscaino of Darien.
Mrs. Gleeson worked for many years as an administrative assistant to the principal at Algonquin Regional High School in Northborough, MA, before retiring in 1983 and re-locating to Darien. She volunteered at the Darien Community Association Thrift Shop and the Tully Rehab Center in Stamford. Mrs. Gleeson was a graduate of Washington Irving High School in New York City and a communicant of St. John Church in Darien.
Mrs. Gleeson is predeceased by her husband of 49 years, John J. Gleeson; her sister, Elizabeth Spositio; her brother-in-law, George P. Sposito; and her nephew, James Casolo. She is survived by her sons, Brian of Greenbrae, CA, and Robert and his wife Tammy of Northborough, Mass; grandchildren Hannah Sheehan, Michael Gleeson, Sofia Gleeson and Oona Gleeson; and two great-grandchildren, Haddie Mae Sheehan and Jack Sheehan. Her sister Roseann Casolo of Darien, nephews George Sposito and his wife Rosemary, Michael Casolo, and niece, Denise Shimko and her husband Tom Shimko, as well as a large extended family also survive her
A memorial service will be held at 11 a.m. on Friday, May 14 at St. John Church, 1986 Post Road, Darien. Interment will be held privately.