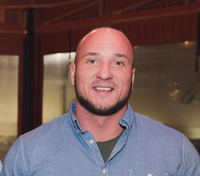 Matthew Lee Walker
Matthew Lee Walker died on April 13, 2021 at his apartment in Branford, CT, at the age of 38. Matthew is the son of Rev. Robert and Donna Walker, Darien, CT, and the brother of Brandon Walker, who resides in San Clemente, CA.
Matthew, known by his friends as Matt, was born on March 20, 1983 in Dallas, Texas. After living in Dallas for less than two years, the Walker family moved to Darien, CT, in 1984. He graduated from Darien High School in 2001 and then entered Green Mountain College for one year. He finished his BA degree at Southern Connecticut State University in New Haven, CT, in 2008.
After graduating from SCSU, Matthew worked as a substance abuse counselor at Turning Point Foundation in New Haven, CT. He was very proud of his many years of sobriety. In 2017, he founded 2Brosandatruck LLC, a moving company based in East Haven, CT. This business became highly successful.
Matthew was an avid ice hockey player in high school and continued to referee and coach youth hockey games as an adult. He also loved the outdoors and especially hiking. He had a great smile, keen sense of humor, and a compassionate heart. His Christian faith was at the center of his life and he was passionate about studying the Bible.
Matthew is also survived by his grandmothers: Eileen P. Walker, Tulsa, OK and Evelyn S. Henry, Atlanta, GA; his aunts and uncles: Patricia Walker, Tulsa; Margaret and Brian Allen, Roanoke, VA; Millie and Jim Downs, Millidgeville, GA. He also has many loving first and second cousins. His grandfathers, Robert L. Walker and Robert E. Henry, and uncle Robert E. Henry, Jr. and aunt Helen E. Spence predeceased him.
Contributions in Matthew's memory can be made to: Friends of Darien Youth Hockey, PO Box 97, Darien, CT 06820 or the Branford Police Department, 33 Laurel Street, Branford, CT 06405.
Information can be found at www.LawrenceFuneralHome.com
A Celebration of Matthew's life and faith was held on Saturday, April 17, at 10 am. It can be viewed at https://www.facebook.com/United-Methodist-Church-of-New-Canaan-186671444783203/live_videos/