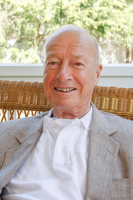 Gillet Lefferts
Gillet Lefferts, Jr May 6, 1923–March 30, 2021
Gillet Lefferts, Jr. of Rowayton, CT, formerly of Darien, CT, passed away peacefully at home on March 30; he was 97 years old. Gil was born in Turtle Bay on May 6, 1923, raised in New York City; he attended The Allen-Stevenson School and Deerfield Academy. A proud member of the Class of 1945, he graduated from Williams College in 1947 and earned his degree in architecture at Princeton University in 1950. Gil honorably served as Airplane Commander in the Army Air Force during World War II.
He began his career in architecture at Moore & Hutchins which became Hutchins, Evans & Lefferts. More than 50 years later, he joined William A Hall Partnership as a consultant. At the age of 88, he retired and suspended his 57 years as a Metro-North regular. Gil was an active member of The American Institute of Architects and the Century Association. An accomplished architect, talented artist, writer, lacrosse and tennis player, die-hard Blue Wave football fan, devoted husband, father, grandfather, uncle, "out-law," and friend. A New Yorker at heart, he raised his family in Darien, CT, a volunteer and active member of the local community on Planning & Zoning, the Board of Selectmen, Saint Luke's Parish, the Darien Library, ABC in Darien, Person to Person, and Darien Nature Center. He brought his reserved dry wit, impeccable common sense, unwavering dedication, deep compassion, and selfless humility to all his endeavors.
Gil was predeceased by his wife of 60 years, Lucia "C.C." Hollerith Lefferts, and his daughter, Helena "Boo" Gillet Lefferts. He is survived by Robert "Bob" Beverly Lefferts (Kathy Kuhn) of Portland, OR, John Willets Lefferts (Gail) of Oxford, MA, Sarah "Sally" Fox Lefferts of Rowayton, CT; and David Hollerith Lefferts (Charity) of New Canaan, CT. Gil is also survived by 16 devoted grandchildren: Rebecca (Drew), Matthew (Kristine), Wesley (Elizabeth); Peter (Esther), Claire, Emily, Jeffrey (Ariana), Daniel, Ben, Andrew, Leah; Jack, Sam (MaryBeth), Will Bosha; Lucy, Caitlin; and two great-grandchildren, Collin and Olivia.
We accept Gil's passing as part of life; and hope you will join us in celebrating his life, lived well.
A service for Gil can be viewed by accessing the following link: https://events.locallive.tv/events/49761. Interment will be at a later date at Ware Church in Gloucerster, VA.
In lieu of flowers, donations can be made in his memory to the Darien Nature Center, 120 Brookside Road, Darien, CT 06820.