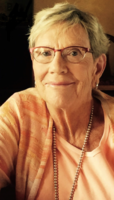 Belinda Tate
Belinda Thorne Tate, 82, died peacefully on Saturday, March 6, 2021 at her home in Darien, Connecticut. She is survived by her brother Donald Thorne of Scottsdale, Arizona; daughter Kimberly Barker and her husband Simon of Norwalk, Connecticut; son Brian Tate and his wife Lucy of Charlotte, North Carolina; and grandchildren Amanda, Matthew, Abby, Spencer, and Ella. She is preceded in death by her husband of 57 years, Barry David Tate.
Born in Chicago, Illinois to Gerald and Virginia Thorne, she spent her youth living in Hinsdale, Illinois, where she graduated from Hinsdale Central High School in 1956. She graduated from Iowa State University in 1960 where she was an enthusiastic member of the Pi Beta Phi sorority and elected to the Morton Board Honorary. She met Barry Tate in 1960 in Milwaukee, Wisconsin where she worked as a kitchen designer in the same building he worked in as a construction draftsman for the Milwaukee Gas Company. They were married in June 1963 at the Union Church in Hinsdale, Illinois and spent the early years of marriage in San Francisco, California where their two children were born. The couple moved back to Hinsdale, Illinois to raise their children near extended family. In 1982 Belinda earned a Masters degree in Counseling Psychology from George Williams College. That same year the family moved to Chappaqua, New York when Barry became president of the Thrift Associations Service Corporation. As empty nesters in 1986, the couple moved to Riverside, Connecticut and Belinda began her second career as a counselor at Greenwich Hospital and at an employee assistance program. The couple moved to Falmouth, Massachusetts in 1995 where Belinda worked as a counselor at the Gosnold Treatment Center until she retired.
Belinda enjoyed retirement living on Cape Cod for twelve years with her beloved Barry. She loved the ocean, knitting and reading on the beach and all the natural beauty of Cape Cod. Belinda's outgoing and caring personality along with her many interests and hobbies fostered a rich life which was full of friends and family and many visitors.
There will be a family celebration of Belinda's life at a later date. Donations in her memory can be sent to the National Autism Association, 20 Alice Agnew Drive, Allentown Falls, MA 02763.